Supreme Nitrile Rubber Tube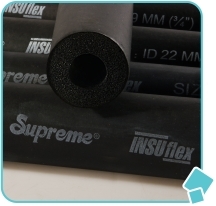 Supreme Nitrile Rubber Tube
Product Description
Supreme Nitrile Rubber Tube is a flexible, pre-formed, and elastomeric tubing thermal insulation that is fire retardant. The material is devoid of CFCs and HCFCs and has a zero O.D.P. Flexible and lightweight tubing provides simple and rapid work. this tube has a strong resistance to water vapor transmission, which results in a low steady thermal conductivity, which saves energy and ensures the system's efficiency. Our Supreme Nitrile Rubber Tube is a more environmentally and user-friendly product than other fibrous materials such as Glass Wool.
A great resistance to water vapor dispersion ensures thermal efficiency at low temperatures.
Chemically inert
Flexible and lightweight tubing is available in a variety of pipe diameters and thickness for a variety of purposes.
No fiber and no O.D.P.
Odorless
Quality fire retardant materials equate to safety and protection.
Resistant to fungus and vermin growth
Temperature range of operation: -55C to +105C
The product's low thermal conductivity results in energy savings and trouble-free operation.
Clean room insulation, pipe insulation, and several others.
Insulate solar piping
Insulation for chiller pipes
Insulation of HVAC pipework
Insulation of split and window air conditioners
Refrigerated storage
Wastewater pipe and plumbing insulation
Clean Rooms e.g., Pharmaceutical and Electronics
Construction - Domestic and Commercial
HVAC industry
Process and chemical industries
R&D centers
Solar Photovoltaic (PV) plants