Supreme LDPE Foam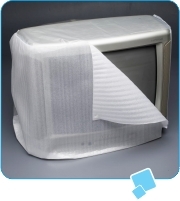 Supreme LDPE Foam
Product Description
Supreme LDPE Foam Features :
Durable, lightweight and non-dusting

Flexible and elastic - Easy to cut, fabricate, wrap around, perforate and seal

High impact resistant - Crumble proof and relatively higher tensile/tear strength

Non-toxic and odourless. Resistant to moisture, fungi and chemicals

Unaffected by temperature ranging from -40C - +70C

CFC free Environment friendly and completely recyclable

Special

anti-static packaging PE foam

grades available - ESD packing, HMHD laminated foam for covers etc.
Supreme LDPE Foam Applications :
Packaging solutions:

Dust covers,

bubble wrap, corner pads,

support pads,

EPE buffers customised foam packaging buffers,

encapsulation blocks, display usage etc.

Anti-static packaging covers

Packaging of consumer durables and white goods

like

TV covers, Refrigerator packaging, LCD / LED packaging

etc.

Packaging and cushioning solutions for Automobiles: Carpet underlays, gaskets, seat cushion inserts,

door liners, side / roof panels etc.

Transit packing of vehicles, returnable / multiple use packing material, domestic and exports spares packing, component packing, packing material for 2-wheelers, steering wheel covers, windshield covers, die-punch wheel arch pads etc.

Packing material for painted surface of components

Sports & recreation goods: Protective foam gears

(Arm / elbow / leg / shoulder pads),

PE foam mats and mattresses,

garment insulation, helmet lining, life jackets / life vests, sleeping bag underlay,

shoe insoles,

gloves, ski belts and many more...

Packaging of electronics & machinery

Fragile item packaging - packaging of glass sheets,

glassware, mirrors, picture frames, ceramics, chinaware, pottery, handicrafts etc.

Packaging of highly polished and sensitive items

Packaging material for sensitive IT merchandise

Freight forwarders
* Composite packaging solutions / customised fabricated packaging products can be designed for specific requirements.
Supreme LDPE Foam Specifications:
| | |
| --- | --- |
| Width | 1900 & 1500 mm |
| Temperature Ranging | -40 Degree C - to +70 Degree C |
| Thickness | 0.85mm to 100 (mm) PL |
| Color | Green, Pink, White |
| Density | 25 kg/m3 and Above |
| Grade | PL |
| Material | EPE/PE |