Supreme Export Marketing Sheet Cover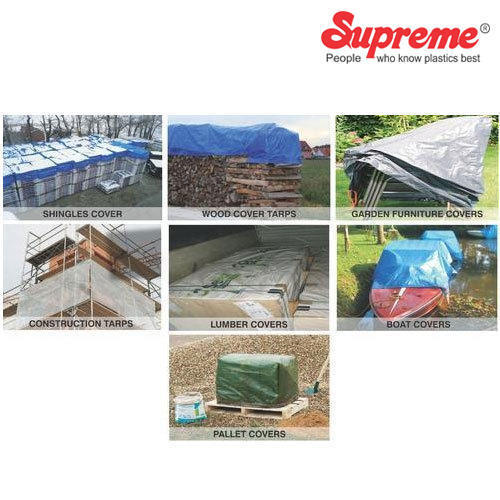 Supreme Export Marketing Sheet Cover
Product Description
Garden Furniture Covers:

This product is widely used for covering furniture that are kept in gardens, outdoors in order to safeguard it from dust, water and dew.
Our Covers are made using taupe and are available in silver grey, green colors.
The covers are heat resistant as well as dust and water proof.
The covers are applicable for stacking chair, hammock, cushion bags, garden bench, wheeled lounger, table cover etc.

Dry & Bulk Container Liner:

The said liners are fabricated Container according to the demand and requirement of a customer.

Export Market Applications:

It is used as tarp for covering boats.
It is utilized as garden furniture covers.
We have Shingle & Siding covers for covering asphalt.
radon gas barrier film.
It is also used for water lining applications.
We offer shipping bags for packing up to 25 Kgs.
Our product is applicable for constructions as well as general applications.
Technical Specification
| | |
| --- | --- |
| Brand | Supreme |
| Standards | As per bis 14611-2016 |
| Thickness | Films made in 35, 45, 55, 70, 90, 100, 120, 150, 200, 250 and 300 Gsm |
| Width | 4ft to 9ft width can be fabricated to a custom made size as per customers requirement |
| Color | Gray,Green, Blue etc. |