Supreme EPE foam profiles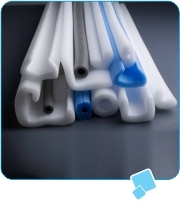 Supreme EPE foam profiles
Product Description
To meet the increasing demand for Supreme EPE foam profile, we use facilities to manufacture and sell it. For the safe transport of lightweight machinery, electrical equipment, and machinery replacement parts, this foam has found its purpose. Foam that is supplied is made under careful supervision by our specialists, who make use of superior grade foam. Our consumers know that, along with this, they may get Supreme EPE foam profile at the lowest price range. It is a versatile and efficient material, great for a wide range of packing and cushioning applications. Supreme EPE foam profile is non-cross-linked and a general-purpose product. The structure is closed-cell. For packing, shipping, and marketing purposes, the foam is effective.
Be on your guard against numerous shocks
It is made of lightweight, flexible, and durable materials
Moisture-resistant, fungus-resistant, and chemical-resistant
The foam is recyclable and environmentally friendly
This solution is non-toxic and odorless.