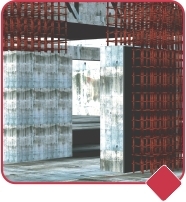 Supreme Dura Silfill
Product Description
Formerly: SIL fill
'DURAfill' is alkali resistant, closed cell, polymer basedexpansion joint filler material for RCC columns, beams, walls, and slabs. Its excellentrecovery (after compression) makes it suitable product for this application. Itis an exclusive product, designed to be used as expansion joint fillerin buildings
It is common knowledgethat elastomeric products are an excellent cushion provider. 'DURAfloorprotector' is composed of thousands of cellstrapped in the foam, with the reinforcement of high performance polymer whichhelps to resist all types of pressure imparted.
High performance foamalso acts as sound barrier and is a good sound absorbent material.
Features :
Closed cell - Negligible water / moisture absorption

Bitumen free

- Non-staining, non-impregnated and non-bleeding. Does not disintegrate

Easy to use - No crumbs, dust or fibers. Can be cut with knife for easy installation

Excellent chemical resistance - Unaffected by alkalis, alcohols, detergents, petrochemical products and most mild acids

Excellent recovery, hence can accommodate joint movement

Does not discolour sealants or architectural substrates
Applications :
Structural expansion joint in buildings

Buildings brick and block work

Isolation joints

between adjacent constructions, e.g. buildings, around manholes, drains and other insets in concrete etc.
Contact Us
1141/1142, Solitaire Corporate Park, Bldg. No. 11, 167, Guru Hargovindji Marg, Andheri-Ghatkopar Link Road, Chakala, Andheri East, Mumbai, Maharashtra, 400093, India
Phone :+918037303463